Rovaltain's association of companies
Rovaltain's association of companies
Rovaltain's association of companies
Created out of the desire to bring the companies operating in Rovaltain together and participate in the development of this area, the Club du Parc is a group of over 50 companies and 1,000 employees. The association is part of a momentum complementary to that initiated by Rovaltain and works to introduce shared solutions meeting common needs of companies such as services, events and inter-company training.
The Club's values of dynamism, sharing, conviviality, solidarity and cooperation are to be found in various actions including:
Breakfast on the 1st Friday of each month to allow companies to meet and talk over coffee and pastries.
 
 An annual inter-company meeting has for the last three years brought together 200 employees and heads of member companies around sports challenges such as football, petanque, zumba and racing, and some quality time with a drink and a meal.
 
Tours round the companies in the park
 
Helping with the organization of the Matinales de Rovaltain and participation in regional, departmental and local events as a partner: mobility challenge, disability week, etc.
Contact: contact@clubduparc-rovaltain.fr
Our situation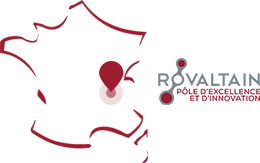 Our services
Contact Rovaltain